Specifications:

2287/2287682-596615_bpr.pdf file (01 Feb 2023)
Accompanying Data:
FAAC 596/615 BPR Control Unit PDF Manual  (Updated: Wednesday 1st of February 2023 01:44:54 PM)
Rating: 4.6 (rated by 39 users)
Compatible devices: 624 BLD, XR2 433 C, 455 D, 739, 578D, E145, E844 3PH, 724 D-24V.
Recommended Documentation:
Manual  (Text Version):
(Ocr-Read Summary of Contents of some pages of the FAAC 596/615 BPR Document (Main Content), UPD: 01 February 2023)
12, 13 6.2 ZELFLEREN TIJDEN De volgende procedure dient te worden gevolgd voor het zelfleren van de werktijden: 1. deblokkeer het automatische systeem en zet hem in de gesloten stand. Controleer of de eindschakelaar voor het sluiten (indien aanwezig) is geactiveerd (led FFC uit) en of de leds STOP en…

2, FAAC 596/615 BPR 3 8. LOGICHE DI FUNZIONAMENTO 7. PROVA DELL'AUTOMAZIONE Al termine della programmazione, controllare il corretto funziona- mento dell'impianto. Verificare soprattutto il corretto intervento dei dispositivi di sicurezza. 5. PROGRAMMAZIONE DELLA LOGICA DI FUNZIONAMENTO La logica di funzionament…

7, FAAC 596/615 BPR 8 4. ANSCHLÜSSEANSCHLÜSSE 1. HINWEISE Vor Arbeiten am elektronischen Steuergerät (Anschlüsse, Wartung usw.) stets die Stromzufuhr unterbrechen. — Vor der Anlage einen thermomagnetischen Fehlerstrom- Schutzschalter mit entsprechender Auslöseschwelle einbauen. — Die Versorgungska…

1, 2 Tensione alimentazione 230V~ — 50HZ Potenza assorbita 4 W Carico max Motore 800 VA Corrente max accessori 250 MA Temperatura ambiente -20°C ÷ +55°C Fusibili di protezione F1 = 6,3A-250V F2 = autoripristinante Logiche di funzionamento B/C, B, C, EP, AP, P, A Default = EP Tempo di lavoro (time-out) Autoap…

8, FAAC 596/615 BPR 9 6.2 LERNVERFAHREN DER ZEITEN Zur Ausführung des Lernverfahrens der Betriebszeiten sind die na- chfolgenden Schritte zu befolgen: 1. Die Automation entriegeln und in die Schließstellung fahren. Sicherstellen, dass der Endschalter beim Schließen (wenn vorhan- den) belegt ist (LED FCC ausgesch…

6, 7 6.2 APPRENTISSAGE DES TEMPS Pour exécuter l'apprentissage des temps de fonctionnement, procéder comme suit: 1. déverrouiller l'automatisme et le mettre en position de fermé. Contrôler que le fin de course de fermeture (si présent) est engagé (led FCC éteinte) et que les…

3, 4 CONTROL UNIT 596/615 BPR On boards supplied as a spare part or with operators on which the limit-switches are optional items, the contacts of connectors J6 and J9 are short circuited. If sensors are being installed, eliminate the jumpers and connect the limit-switches directly o…

4, 5 6.2 TIME LEARNING Time learning instructions: 1. Release the automated system and put it into closed position. Check if the closing travel-limit sensor (if present) is engaged (FCC LED OFF) and if the STOP and SAFE LEDs are lighted; 2. press SW1 and hold it down until the automated system begin…
FAAC 596/615 BPR User Manual

FAAC 596/615 BPR User Guide

FAAC 596/615 BPR PDF Manual

FAAC 596/615 BPR Owner's Manuals
Recommended:
Z61t, V58, ViewStation H.323, Polaview 305
Operating Impressions, Questions and Answers: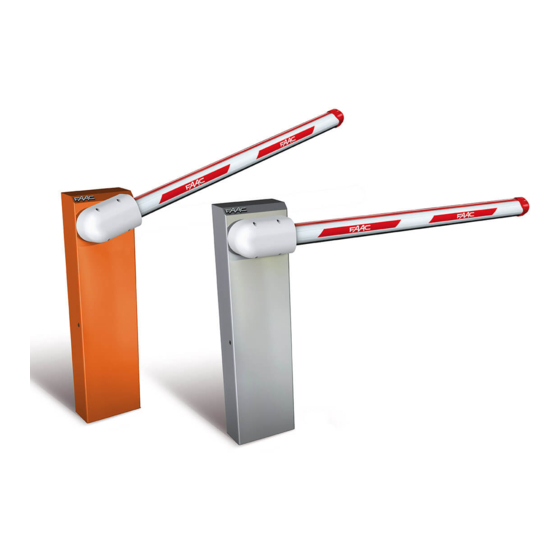 Manuals
Brands
FAAC Manuals
Automatic Barriers
615 BPR
Manual
Contents

Table of Contents

Bookmarks
Quick Links
Related Manuals for FAAC 615BPR Series
Summary of Contents for FAAC 615BPR Series
Page 1
615BPR 615BPR…

Page 2: Table Of Contents

Index EC MACHINE DIRECTIVE COMPLIANCE DECLARATION ………………..p. 2 IMPORTANT NOTICE FOR THE INSTALLER ……………………… p. 2 1. DESCRIPTION AND TECHNICAL SPECIFICATIONS ………………….p. 3 1.1. MAXIMUM USE CURVE ……………………….p. 3 2. ELECTRICAL DEVICES (standard system) ……………………p. 4 3.

Page 3: Ec Machine Directive Compliance Declaration

16) Each installation must be fitted with at least one fashing light (e.g. 4) Keep these instructions for future reference. FAAC LAMP, MINILAMP etc) as well as a warning plate suitably fixed to the gate, besides the safety devices as per point 15. above.

Page 4: Description And Technical Specifications

Absorbed power (W) The 615BPR automatic system was designed and built for Type of oil FAAC HP OIL controlling vehicle access. Do not use for any other purpose. Oil quantity (Kg) Winding 120°…

Page 5: Electrical Devices (Standard System)

2. ELECTRICAL DEVICES (standard system) 615BPR actuator Photocells Key push-button Flashing lamp Receiver fig.4 1) To lay cables, use adequate rigid and/or fig.5 flexible tubes. 2) Always separate connection cables of low 4.3. MECHANICAL INSTALLATION voltage accessories from 230V~ supply 1) Remove the cover, unscrewing the screws securing it cables.

Page 6: Installing And Adjusting The Balancing Spring

CONVERTING FROM RIGHT-HAND TO LEFT-HAND 4.4. INSTALLING AND ADJUSTING THE BALANCING SPRING VERSION 1) Check if the balancing spring matches the type of Procedure for converting a right-hand version to left-hand: beam installed: see chapter 8. 2) Take the bronze bush (fig.7 ref.1) from the supplied Release the operator.

Page 7: Start-Up

5. START-UP 6. MANUAL OPERATION If the barrier has to be moved manually due to a power cut 5.1. ADJUSTING TRANSMITTED TORQUE or fault of the automatic system, use the release device as To set the hydraulic system controlling transmitted power, follows: turn the two by-pass screws (fig.9 ref.B).

Page 8: Available Accessories

(fig.18). To top-up, unscrew the filling plug (fig.18) and pour oil to MAX level on the stick. Use only FAAC HP OIL oil and no other. Dimensions are in mm. fig. 15 To position the fork support foundation plate, refer to fig.15 where: fig.

Page 9
USER'S OPERATING MANUAL An opening pulse given during re-closing always reverses 615BPR AUTOMATIC SYSTEM movement. A stop pulse (if supplied) always stops movement. GENERAL SAFETY REGULATIONS For details on barrier behaviour in different function logics, consult the installation Technician. If correctly installed and used, the 615BPR automatic The automatic systems include safety devices (photocells) system ensures a high degree of safety.
Page 10
Le descrizioni e le illustrazioni del presente manuale non sono impegnative. La FAAC si riserva il diritto, lasciando inalterate le caratteristiche essenziali dell'apparecchiatura, di apportare in qualunque momento e senza impegnarsi ad aggiornare la presente pubblicazione, le modifiche che essa ritiene convenienti per miglioramenti tecnici o per qualsiasi altra esigenza di carattere costruttivo o commerciale.
APPARECCHIATURA ELETTRONICA 596/615 BPR
1. AVVERTENZE
Prima di effettuare qualsiasi tipo di intervento sull'apparec-
chiatura elettronica (collegamenti, manutenzione) togliere
sempre l'alimentazione elettrica.
— Prevedere a monte dell'impianto un interruttore magnetotermico
differenziale con adeguata soglia di intervento.
— Separare sempre i cavi di alimentazione da quelli di comando
e di sicurezza (pulsante, ricevente, fotocellule, ecc.). Per evitare
qualsiasi disturbo elettrico utilizzare guaine separate o cavo
schermato (con schermo collegato a massa).
. CARATTERISTICHE TECNICHE
Tensione alimentazione
Potenza assorbita
Carico max Motore
Corrente max accessori
Temperatura ambiente
Fusibili di protezione
Logiche di funzionamento
Tempo di lavoro
(time-out)
Tempo di pausa
Ingressi in morsettiera
Uscite in morsettiera
Funzioni programmabili
Funzioni in apprendimento
3. LAYOUT E COMPONENTI
J2
RADIO-DECODER
J2
Led
SW1
DL1
J3
OPTION
J7 OPEN
596
J7
615
OP-A
CLOSE
STOP
SAFE
FCA
FCC
Led
—
+
OPEN
CL
STOP
SAFE
J6
J9
J1
J9
J6
1
J1
IN/OUT
FCA
FCC
Descrizione componenti
J1
morsettiera ingressi e alimentazione accessori
J2
connettore per ricevente radio (vedi Nota)
J3
selezione funzionamento: 596
J4
morsettiera motore
J5
morsettiera alimentazione 230Vac
J6
connettore finecorsa di aperura (contatto N.C.)
J7
connettore comando OPEN (per basculante)
J8
morsettiera lampeggiatore e luce di cortesia
J9
connettore finecorsa di chiusura (contatto N.C.)
LED
leds di segnalazione
SW1
tasto programmazione
TF1
trasformatore
F1
6,3A — 250V (protezione motore)
F2
autoripristinante (protezione accessori)
Sul connettore ad innesto J2 è possibile collegare una
ricevente bicanale, tipo RP2 , in modo da comandare
direttamente l'OPEN e il CLOSE dell'automazione con un
radiocomando bicanale.
Nel caso si utilizzi una ricevente monocanale, tipo RP , sarà possibile
comandare solamente l'OPEN.
230V~ — 50Hz
4 W
800 VA
250 mA
-20°C ÷ +55°C
F1 = 6,3A-250V F2 = autoripristinante
B/C, B, C, EP , AP , P , A Default = EP
Autoapprendimento (0 — 10 min
a passi di 2,5 sec) Default = 10 min
Autoapprendimento (0 — 5 min
a passi di 1,5 sec) Default = 15 sec
Open, Close, Stop, Sicurezze in CH,
Finecorsa, Alimentazione
motore, lampeggiatore, lampada di
cortesia ed alimentazione accessor
Funzionamento
per barriera o basculante
Logica
Tempo di lavoro, Tempo di pausa
F2
F1
J4
7
J8
10
230 Vac
J8
COM
J4
OP
COM
CL
o 615
4. COLLEGAMENTI
1
J1
IN/OUT
Descrizione morsettiere
Morsetto
Descrizione
1
OPEN
2
CLOSE
i
3
STOP
4
— 24Vdc
5
+ 24Vdc
6
SAFE
TF1
7
8
COm
9
10
LAmP
13
11
COURT.
J5
J5
L
N
Fig. 1
12
COm
13-14
L — N
Sulle schede fornite come ricambio o con operatori in cui
i finecorsa sono opzionali, i contatti dei connettori J6 e J9
sono cortocircuitati. Nel caso si installino i sensori, occorre
eliminare i jumpers e collegare i finecorsa, direttamente o tramite
l'apposito adattatore, ai suddetti connettori. Il funzionamento,
all'impegno dei finecorsa, varia a seconda dell'impostazione del
funzionamento come 596 o 615 (J3).
In apertura: arresto immediato all'impegno del sensore.
In chiusura: all'impegno del sensore l'operatore lavora per 4 sec. in
rallentamento ed 1 sec. in velocità standard (colpo d'ariete).
In apertura ed in chiusura: all'impegno del sensore viene eseguito
un rallentamento di durata pari alla metà del tempo di lavoro in
velocità standard.
Se non sono installati i finecorsa, l'apparecchiatura esegue il solo
tempo di lavoro appreso (vedi par. 6.).
7
10
J6
J9
OP
COM
CL
FCA
FCC
230 Vac
max 40W
M
230 Vac
max 60W
C
Altro dispositivo
di sicurezza
RX CL1
TX CL1
1
2
1
3
2
4
5
Dispositivo collegato
Dispositivo con contatto N.A.
(cap. LOGICHE FUNzIONAmENTO)
Dispositivo con contatto N.A,
(cap. LOGICHE FUNzIONAmENTO)
Dispositivo con contatto N.C.
provoca il blocco dell'automazione
Alimentazione accessori
Dispositivo di sicurezza in chiusura con
contatto N.C.
(cap. LOGICHE FUNzIONAmENTO)
Fase Apertura motore
OP
Comune motore
Fase Chiusura motore
CL
Uscita lampeggiatore
230Vac max 60W
Uscita lampada di cortesia 230Vac
max 40W —
temporizzazione di 90 sec.
non modificabile
Comune lampada/lampeggiatore
Alimentazione apparecchiatura
(230Vac)
596
615
13
COM
L
N
230 Vac
+6% -10%
Fig. 2